Workforce Solutions Welcomes Two New Team Members
Due to the ever-changing nature of our workforce and job ecosystem, Workforce Solutions (WFS) understands that change is necessary in order to better serve our community. Within the scope of our duties lies student services, and if we further delve into that area, we find a variety of programs and services intended to help students with disabilities enter the workforce.
To suit the specific needs of that audience, WFS created two Student HireAbility Navigator positions, held by Del Diaz and Jeannette Escalera. Their role is to help improve the system services and collaboration of organizations that serve students with disabilities in the Lower Rio Grande Valley service area. The Student HireAbility Navigator program will focus exclusively on services for students with disabilities who are in the early phases of preparing for transition to postsecondary education and employment. Each Student HireAbility Navigator serves as a resource in the workforce development area to support, expand, and enhance the provision of pre-employment services that are provided by VR as well as the other partners and programs in the workforce development area.
Navigators performs duties and provide deliverables in the following three focus areas:
Capacity building and systems development
Partnering and collaboration
Informing and engaging employers
The overarching goal of the activities within the three focus areas is to increase the likelihood of students' independence and inclusion in communities and competitive integrated workplaces, and their successful participation in postsecondary education experiences.
Congratulations to Del and Jeannette! We look forward to the positive effect that your work will have on our community. For employment opportunities, upcoming events, and the latest WFS developments, visit us at wfsolutions.org or call us at 956-687-1121.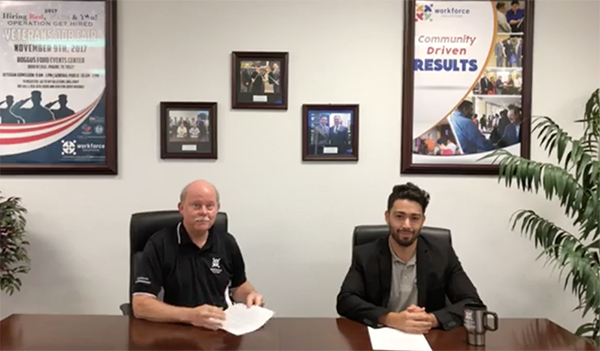 WFS to Broadcast Labor Market Information Updates on Facebook Live
In June, 2018, Workforce Solutions Communications Specialist, Mike Gonzalez, and Senior Business Relations Representative, Mike Willis, went live on Facebook for what we hope will grow to become a quick and useful overview of the latest labor market information (LMI) data.
Social media has become a valuable tool for WFS, and with a resource like Facebook Live, we're able to broadcast relevant information to an audience of nearly 10,000 followers. Each month, Mike G. and Mike W. will break down the numbers and figures provided in the LMI so viewers in our service area can use the data to their advantage.
LMI gives us the most current labor market highlights and developments across the state. The information is produced and published on a monthly basis and includes data on nonagricultural job trends, the labor force, job postings, and other relevant indicators for both the state and sub-state areas. Additional data and historical information is available on Tracer2.com.
Like and follow @WFSolutions on Facebook to catch our live LMI reports!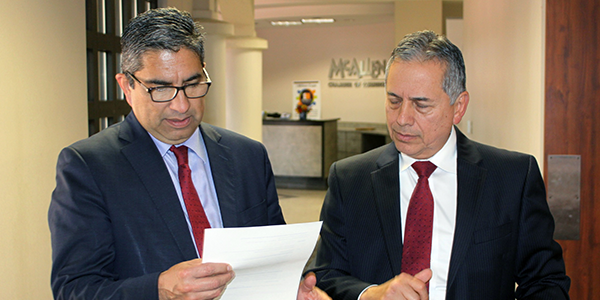 TWC Chairman Alcantar Announces Retirement
After nearly a decade of service, TWC Chairman and Commissioner Representing the Public Andres Alcantar today announced his retirement from state service effective July 31.
In regards to the announcement, WFS Chief Executive Officer Francisco Almaraz states: "During his tenure as the Chairman and Commissioner Representing the Public, Andres Alcantar worked diligently to ensure that local workforce boards maintained the liberty to effectively service their regions to the highest standard possible. Our ability to reach and serve so many people here in the Rio Grande Valley have only been supplemented by his leadership, and although the board and I are saddened over the news of his resignation, we are grateful for the positive change that his influence was able to bring to our great state of Texas."
Chairman Alcantar was appointed Commissioner by former Governor Rick Perry effective August 4, 2008. From the start, he strengthened relationships with local workforce board leaders and key stakeholders to honor local flexibility and advance innovation in service delivery. Additionally, he worked to implement customized services and promoted industry-based partnerships to meet the needs of Texas' vast array of industries and advance the development of a strong competitive workforce.

Workforce Solutions Awarded $81,076 Texas Talent Connection Grant
The Texas Workforce Commission (TWC) made a visit to the McAllen Convention Center on February 9, 2018 to engage with area employers, human resource professionals, business owners and managers at the Texas Business Conference. The intent behind the meeting was to inform and educate our constituents on the employment law update. The conference provided valuable information for employers and business owners concerning the legal issues associated with operating a business in Texas.
"We are committed to providing employers with the information they need to succeed," said TWC Commissioner Representing Employers Ruth R. Hughs. "The Texas Business Conference brings valuable resources to help employers effectively navigate through state and federal employment laws."
Workforce Solutions facilitated the event by coordinating a Q&A session with local employers such as Spectrum and Doctors Hospital at Renaissance. The session provided employers with practical, up-to-date information for operating a successful business along with techniques to more effectively manage employees. Seminar topics included: Texas employment law and the basics of hiring; federal and Texas wage and hour laws; employee policy handbooks and many more.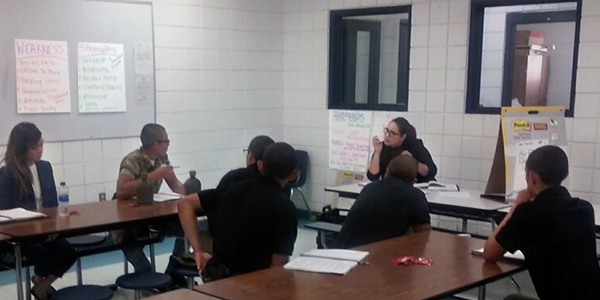 JOBS Program Prepares At-Risk Youth for Success in the Workplace
The Juvenile Opportunity for Better Skills (JOBS) program is designed to assist Hidalgo County at-risk youth from the Judge Mario E. Ramirez Juvenile Justice Center with opportunities to strengthen their soft skills and establish work experience.
In July 2018, Workforce Solutions conducted a 16 hour job readiness training for 16 and 17 year old students who are currently being housed at the juvenile justice center. The students completed the 16 hour soft skills training in preparation for placement in a work experience job site. The program provides at-risk youth with skills and experience needed to become productive citizens upon release.
"Our youth deserves to be guided toward success," says Francisco Almaraz, WFS CEO. "With programs like this one, WFS is able to serve as a beacon of light for youth whom at one point, strayed and found themselves lost. Mistakes should not define us, but rather, refine us."

2018 Child Care Symposium
Each year, Workforce Solutions child care providers from across the RGV are invited to support the practice of quality child care within our community.
With over 1,000 attendees across the span of two days, the 2018 Child Care Symposium was a huge success. Participants were able to engage with early childhood development experts through interactive workshops, all the while witihin an environment promoting professional networking opportunites to learn how to apply best practices in the field.
Marisa E. Oliva and Albert Wright captivated audiences with knowledge earned through experience and inspiring tales that highlighted the importance having a passion for your craft.
We're honored to lift up our child care providers, who play a vital role in the workforce system, and will continue to support the professional development of their invaluable skills.
Upcoming Events
McAllen Public Library Job Fair - August 25th, 2018

Annual Women Veterans Seminar: Focusing on Suicide Prevention - September 28 - 29, 2018

WFS Board of Directors Strategic Planning Workshop -

September 28 - 29, 2018
Copyright © 2018 Workforce Solutions - Lower Rio Grande Valley, All rights reserved. Workforce Solutions is one of 28 Texas Workforce Development Boards serving Hidalgo, Starr, and Willacy counties.
EQUAL OPPORTUNITY IS THE LAW
Lower Rio Grande Valley Workforce Development Board dba Workforce Solutions is an equal opportunity employer/program and auxiliary aids and services are available upon request to include individuals with disabilities. TTY/TDD via RELAY Texas service at 711 or (TDD) 1-800-735-2989/1-800-735-2988 (voice).
Our mailing address is:
3101 W. Business 83 :: McAllen, TX 78501