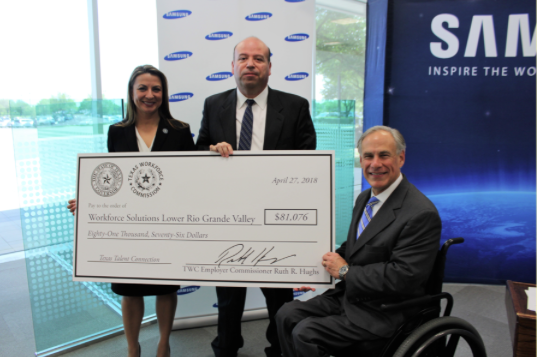 PRESS RELEASE: Workforce Solutions Awarded $81,076 Texas Talent Connection Grant
FOR IMMEDIATE RELEASE
DATE: May 7, 2018­
CONTACT: Mike Gonzalez
PHONE: 956.332.9741
E-MAIL: mikeg@wfsolutions.org
Workforce Solutions Awarded $81,076 Texas Talent Connection Grant
Funding Will Provide Valuable Internship Opportunities to High School Seniors
McAllen, TX – On Friday, April 27, 2018, Workforce Solutions (WFS) Board Chair, Jaime Ortiz, accepted a grant in the amount of $81,076 from the Texas Workforce Commission (TWC) in Austin, Texas. The Texas Talent Connection grant was awarded to the Lower Rio Grande Valley Board to fund valuable internship opportunities for high school seniors interested in gaining work experience in high-demand STEM occupations. Additionally, participants will earn third party industry recognized certification prior to graduation from high school, further priming them for success in their respective fields.
"The opportunity to provide youth with the experience that employers demand is one that we sought out, and with the Texas Talent Connection Grant, our organization can now deliver a wonderful contribution to our community," said Ortiz. "There are industries in the RGV that have a need for qualified employees, and with this funding, we'll be able to help students get that on-the-job work experience and certification they need to start life after high school on the right foot while also cultivating our local economy."
The Texas Workforce Investment Council, on behalf of the Office of Governor Greg Abbot, issued a call for grant applications to develop and implement new internship opportunities that provide work experiences that prepare high school and community and technical college (CTC) students for employment in high-demand middle-skill STEM occupations in the state. WFS identified the demand/target occupations for our region (which included Computer Network Support Specialists, Computer User Support Specialists, and Automotive Service Technician Mechanics) that impact a couple of the largest industries in our region and proposed an internship program based around them.
The program has a proposed timeline that aims to initiate student recruitment in mid-August. Participating community partners include Weslaco Independent School District (ISD), City of Weslaco, Mission ISD, Mission Economic Development Corporation, Lyford ISD, Pharr-San Juan-Alamo ISD, and HM3 Engineering.
Workforce Solutions serves as the governing body for the workforce development area that includes Hidalgo, Willacy, and Starr counties. The primary goal of the WFS Board is to respond to the needs of local employers and workers through locally designed demand-driven workforce development initiatives.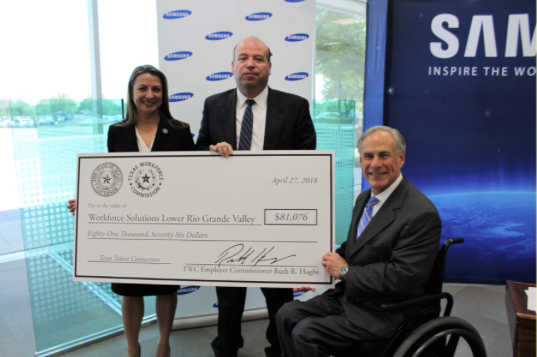 From left to right: Ruth Hughs, Commissioner Representing Employers, Texas Workforce Commission, Jaime Ortiz, Chairman, Workforce Solutions Lower Rio Grande Valley Workforce Development Board, Governor Greg Abbot
###