Career Training
Has the cost of earning your degree kept you from going back to school? Have child care expenses kept you from pursuing your career? Workforce Solutions may be able to help! For featured programs, see below:
WIOA Youth and Adult Training Programs
Choose from a list of trainings for many of the target occupations available right here in the Rio Grande Valley. Earn your certificate in as little as three months and start earning the money you deserve!
To learn more and find out if you qualify, please connect with the Workforce Solutions office nearest to you. To schedule an appointment, please click the "Schedule Appointment" button at the top of the page or call (956) 687-1121. Visit the Eligible Training Provider System here or click here. You can also send an e-mail to info@wfsolutions.org for more information on any program.
E3: Empower - Educate - Employ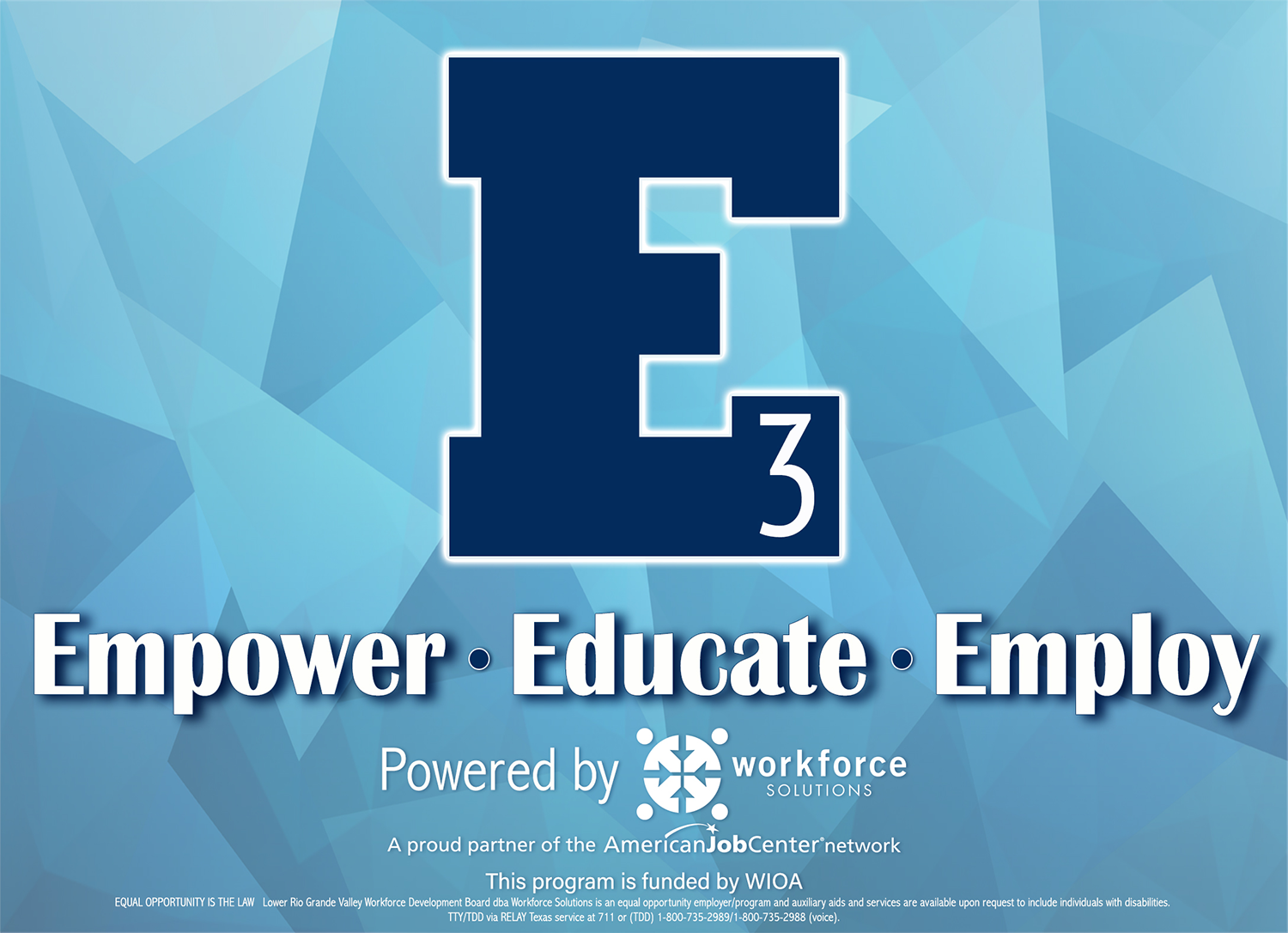 The E3 Program is a unique and innovative approach to providing WIOA Youth Services with a mission to ensure youth have access to the support, information, and learning opportunities to succeed in the 21stcentury economy. E3 means to:
Empower our Youth by identifying barriers early and providing resources in the form of support services, mentoring, and developing cooperative Individual Service Strategies to begin overcoming barriers to their desired career paths.
Youth entering our E3 program may or may not have ideas or goals as to what they want for their future careers. Our Career Counselors and Youth Facilitators are there to guide the participant from beginning to new beginnings using individualized, customizable Employment Plans and assessments to discover career paths and also measure strengths and interests towards those paths that appeal most to the Youth. Mentoring services, referrals to community partner agencies, and support services (based on eligibility and availability of funds) can help identify and address barriers to success. The basics of labor market information are explained so the participating Youth can learn more about the careers they interested in and their potential.
Educate our Youth to better understand workplace and career expectations using a curriculum based on secondary school or dropout recovery services, financial literacy, postsecondary preparation, job skills development, and technology-based learning tools.
People, especially the Youth we service, have moments in their lives where decisions need to be made and guidance is needed. We can help with this while the Youth begins participation in the program and starts to earn a paycheck. Through our updated Job Readiness curriculum, we can help with how make informed employment or education decisions and develop workplace skills that will help throughout the course of their careers. On-demand high impact local industries such as healthcare and public safety along with job search and interview strategies are discussed in a classroom setting. Jobsites are explored using specialized VR sessions that have the Youth immerse themselves into workplaces they are interested in. Leadership and community engagement qualities are enriched by participation in community service projects across Hidalgo, Willacy, and Starr counties.
Employ our Youth by exposing them to relevant labor market information, meaningful work-based learning opportunities such as paid work experience, and job development activities to continue successfully along their desired career paths.
The work experience component of our program is a culmination of our ultimate goal for the E3 program: that Youth have the information, support, and opportunities needed to succeed in the 21stcentury economy. At this point, Career Counselor and Youth Facilitator staff members have already engaged the Youth with customized labor market information specific to their skill sets and career path interest. Youth will be placed in relevant jobsites in order to gain valuable experience in a real world setting and earn a paycheck as well. Skills learned during our Job Readiness courses are put to use in meaningful ways and constant communication is kept between all parties to ensure maximum success. Upon completion of the program, we keep in touch and follow up with our Youth to provide guidance and assist however possible with the growing amount of opportunities that are available across the Lower Rio Grande Valley.
Building Better Futures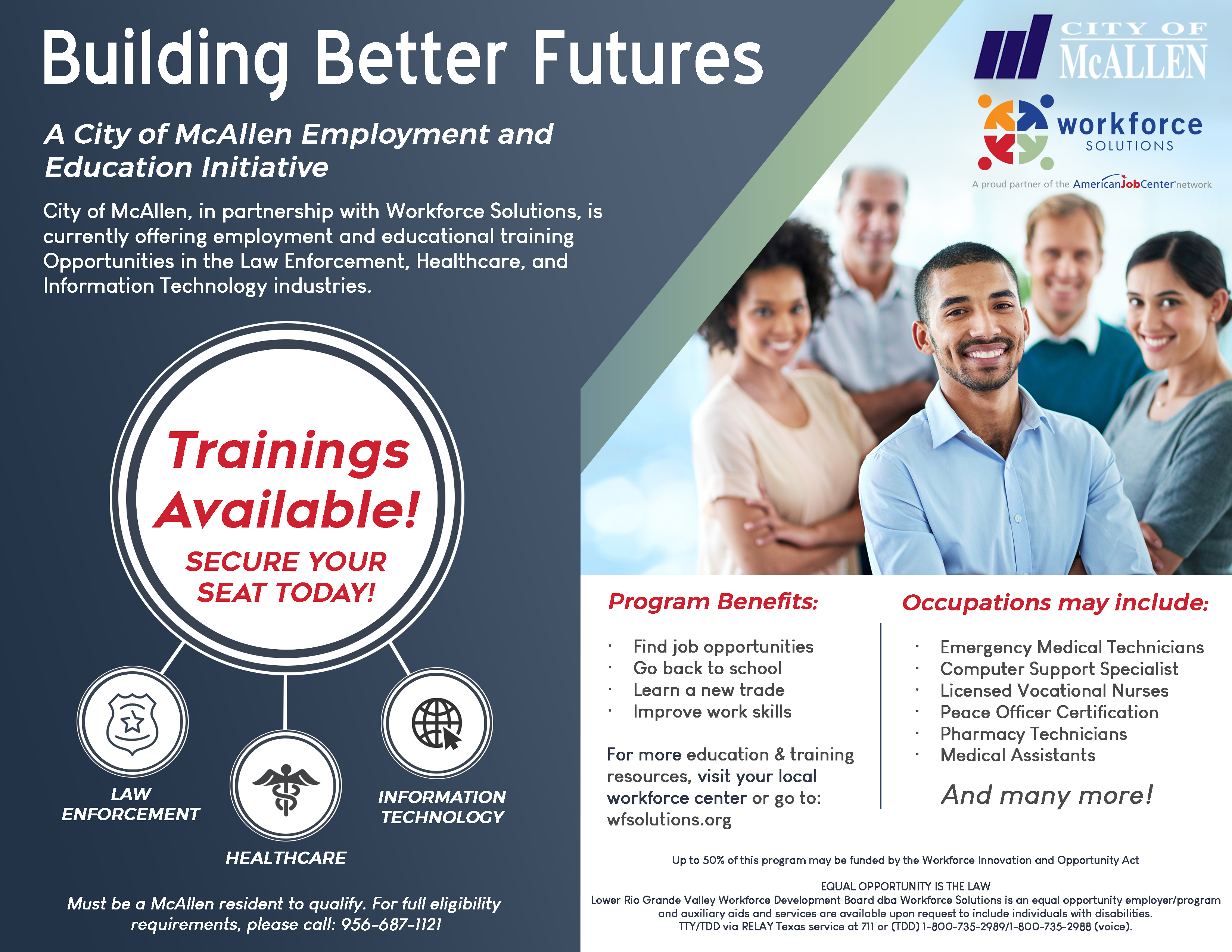 City of McAllen, in partnership with Workforce Solutions, is currently offering employment and educational training Opportunities in the Law Enforcement, Healthcare, and Information Technology industries.
"Workforce Solutions' goal is to ensure that McAllen employers from the healthcare, law enforcement and information technology industries are able to fill their high-demand employment positions with participants that are enrolled in or have completed a training program," says WFS Chief Executive Officer, Francisco Almaraz. "Programs like these allow the community to grow from within, allowing a skilled workforce to develop. Along with Mayor Darling, I look forward to seeing McAllen residents take advantage of the training opportunities available."
To address these goals, Workforce Solutions will use $150,000 provided by the City of McAllen in combination with Workforce Solution's leveraged funds from the Workforce Innovation and Opportunity Act (WIOA) to fund fifty-three (53) qualified individuals by providing:
· Financial assistance to pay for training programs that lead to an industry credential, certificate, or Associates degree; and/or as needed,
· Financial assistance to pay for training programs that align with healthcare, law enforcement and information technology,
· Work-based learning, such as On-the-Job training (OJT) and/or paid work experience that align with healthcare, law enforcement or information technology to gain experience and enhance employment opportunities in these industries, and
· Basic career counseling service for eligible participants.
Only McAllen residents with either a high school/general equivalency diploma or high school equivalency are eligible. Additionally, McAllen employers will be prioritized when placing participants of this grant in employment. For more information and full eligibility requirements, please call 956-687-1121.