Brand Identity Resource Page
The primary purpose of this page is to provide guidelines and specifications for the use and presentation of the Workforce Solutions brand, as well as other essential marketing information. It includes examples of how to use the corporate signature in a variety of materials and situations. It is very important that these standards are applied to create familiarity and maintain consistency and continuity. To save a logo, click the desired format and a new page will open displaying the image. Right click and save the file to your computer.
---
Official Logos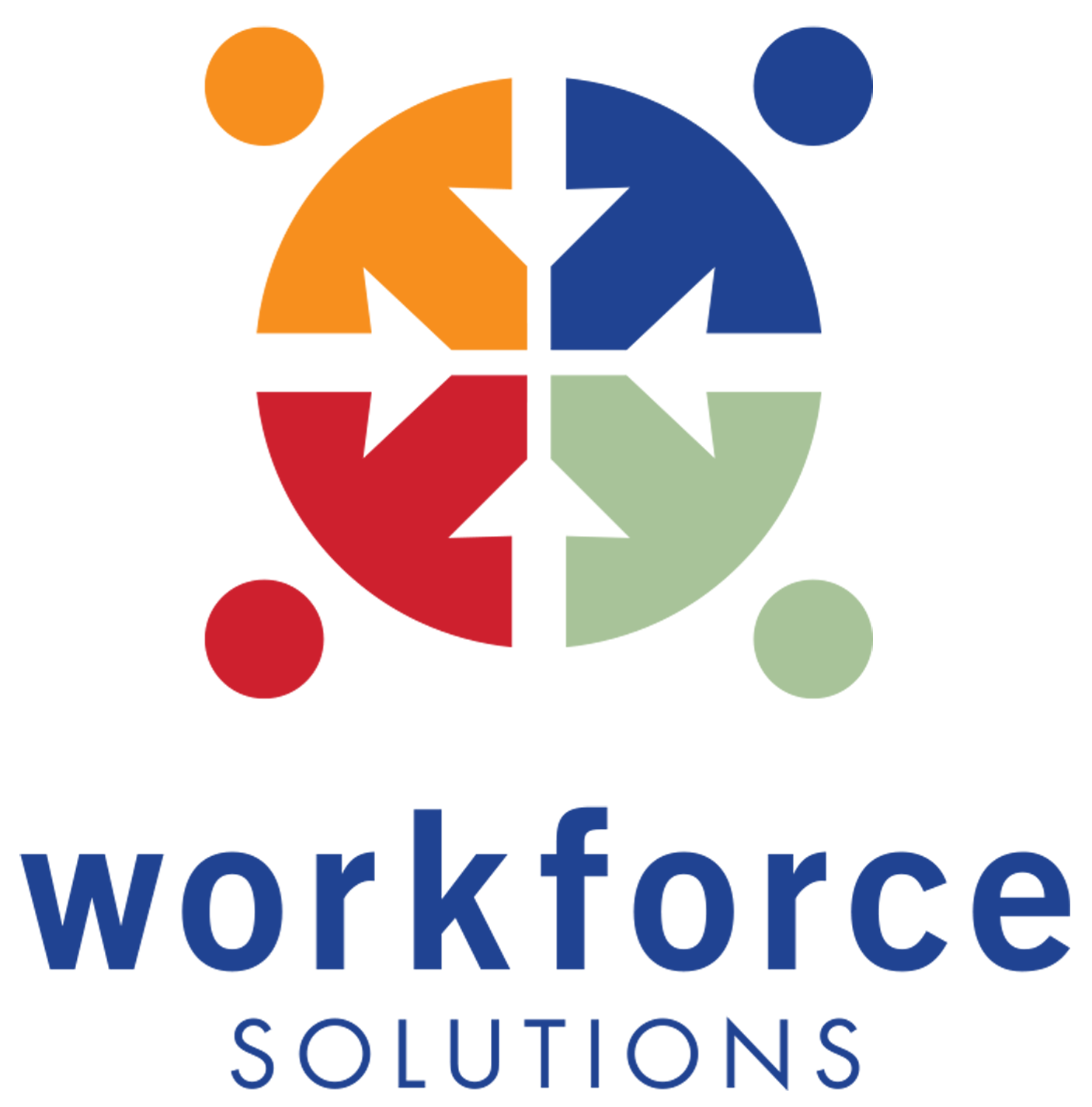 Download stacked logo:

Download horizontal logo:
The Workforce Solutions (WFS) logo can either be stacked and centered or horizontal. The WFS logos must appear with the American Job Center tagline underneath them with a minimum length of 2" (inches) on any printed material.

Download AJC Tagline:
NOTE: It's crucial that the Equal Employment Opportunity Tagline be included on any external WFS communications displaying the logo. The tagline reads as follows:
Equal Opportunity Is The Law
Lower Rio Grande Valley Workforce Development Board Dba Workforce Solutions Is An Equal Opportunity Employer/Program And Auxiliary Aids And Services Are Available Upon Request To Individuals With Disabilities. Tty/Tdd Via Relay Texas Service At 711 Or (Tdd) 1-800-735-2989/1-800-735-2988 (Voice).
---
Logo Usage Examples
ACCEPTABLE Treatments of the Logo
The corporate signatures below are used properly.
UNACCEPTABLE Treatments of the Logo
The examples below demonstrate unacceptable treatments.
| | |
| --- | --- |
| Do not stretch the logo: | Do not alter the logo type/font: |
| Do not add a drop shadow to the logo: | Do not add a border/stroke/outline to the logo: |
| Do not alter the size ratio of the logo icon: | Do not alter the alignment of the logo text: |
---
Official Color Standards
Pantone and Process
The following colors have been chosen for Workforce Solutions' corporate identity. Stationery pieces will always use UNCOATED colors. Refer to CMYK and RGB formulas for materials produced in those color modes.

Orange: PMS Orange 021 | CMYK: C: 0, M: 52, Y: 99, K:0 | RGB: R: 247, G: 143, B: 30

Blue: PMS 661 | CMYK C: 99, M: 87, Y: 9, K: 1 | RGB: R: 32, G: 67, B: 146
Green: PMS 7494 | CMYK: C: 36, M: 11, Y: 47, K:0 | RGB: R: 168, G: 195, B: 153

Red: PMS 1797 | CMYK: C: 13, M: 100, Y: 91, K: 3 | RGB: R: 206, G: 32, B: 46
---
Program Logos
When purchasing items/products for events or initiatives, it is necessary to attribute a program to the item/product (i.e., drawstring bags for students must include the WFS Youth Services program logo).
Frequently Used Acronyms
Acronyms are often used by public and private agencies as time-saving, shorthand ways to communicate lengthy titles or basic concepts.
This Glossary provides a quick reference to terms, acronyms and abbreviations commonly used by Workforce Solutions.
Click on a letter to see corresponding acronyms
ABE

Adult Basic Education

AEL

Adult Education & Literacy

ASE

Adult Secondary Education

BLS

Bureau of Labor Statistics

BSU

Business Service Unit

BSR

Business Service Representative

CBO

Community-Based Organization

CCS

Child Care Services

CEO

Chief Elected Official

Chief Executive Officer

CLF

Civilian Labor Force

CRT

Classroom Training

CTE

Career and Technical Education

CY

Calendar Year

DADS

Department of Aging and Disability Services

DFPS

Department of Family and Protective Services

DOE

Department of Education

DOL

Department of Labor (U.S. and Federal)

DOT

Department of Transportation

DVOP

Disabled Veterans Outreach Program

DW

Dislocated Worker

E&T

Education and Training

EA

Emergency Assistance

EAP

Employee Assistance Program

EGC

Executive and Governance Committee

EDC

Economic Development Corporation

EEO

Equal Employment Opportunity

EEOC

Equal Employment Opportunity Commission

ESL

English as a Second Language

ESOL

English for Speakers of Other Languages

ESP

Employment Services Program

ETA

Employment & Training Administration

ETPS

Eligible Training Provider System

FA

Fiscal Agent

FBO

Faith-Based Organization

FLSSA

Fair Labor Standards Act

FR

Federal Register

FY

Fiscal Year

GAAP

GED

General Equivalency Diploma

HB-5

House Bill 5

HDJT

High Demand Job Training

HHS

U.S. Department of Health & Human Services

HS

High School

IEP

Individual Employment Plan

ITA

Individual Training Account

JET

Jobs and Education for Texas

K-12

Kindergarten through 12th grade

KPI

Key Performance Indicator

KSI

Key Strategic Imperative

LEP

Limited English Proficiency

LMI

Labor Market Information

LNG

Liquid Nitrogen Gas

LRGVDC

Lower Rio Grande Valley Development Council

LWDB

Local Workforce Development Board

MET

Migrant Education and Training

MOU

Memorandum of Understanding

MPR

Monthly Performance Report

MSFW

Migrant Seasonal Farm Worker

NAICS

North American Industry Classification System

NAWB

National Association of Workforce Boards

NCP

Non-Custodial Parent

NEG

National Emergency Grant

NBRI

National Business Research Institute

NFA

Notice of Fund Availability

OJT

On-The-Job Training

OMB

Office of Management and Budget

O*NET

Occupational Information Network

PA

Public Assistance

PY

Program Year

RESTEC

Rio South Texas Economic Council

RFP

Request for Proposal

RFI

Request for Information

RFQ

Request for Qualifications

RGV LEAD

Rio Grande Valley Linking Economic and Academic Development

RR

Rapid Response

RTAP

Regional Transportation Advisory Panel

SDF

Skill Development Fund

SEAL

Summer Earn and Learn

SSF

Self Sufficiency Fund

SNAP E&T

Supplemental Nutrition Assistant Program Employment and Training

SOC

Standard Occupation Classification

STEM

Science, Technology, Engineering and Math

TA

Technical Assistance

TAA

Trade Adjustment Assistance

TANF

Temporary Assistance for Needy Families

TEA

Texas Education Agency

TEGL

Training & Employment Guidance Letter

TIP

Texas Industry Partnership

TRS

Texas Rising Star

TSR

Texas School Ready

TWC

Texas Workforce Commission

TWIST

The Workforce Information System of Texas

UC

Unemployment Compensation

UI

Unemployment Insurance

USDOL

United States Department of Labor

VA

Veterans Administration

VRS

Vocational Rehabilitation Services

WARN

Worker Adjustment and Retraining Notification Act

WCCT

Workforce Career Center Traffic

WD

Workforce Development

W/E

Work Experience

WFS

Workforce Solutions

WIOA

Workforce Innovation and Opportunity Act
Title I Adult Program

Title I Dislocated Workers
Title I Youth (age 14-24, in-out of school)

WIA

Workforce Investment Area

WIT

Work In Texas

WOTC

Work Opportunity Tax Credit

YCE

Youth Career Expo
ANNUAL BOARD OF DIRECTORS MEETING
Notice is hereby given in accordance with Chapter 551, Texas Government Code, that an Annual Meeting of the Board of Directors of the Lower Rio Grande Valley Workforce Development Board, Inc. dba Workforce Solutions will be held Wednesday, December 11, 2019 at 6:00 p.m. in the Palm Board Room of Workforce Solutions Corporate Office located at 3101 W. Business 83, McAllen, Hidalgo County, Texas.
The agenda is made available by accessing the link below:
1. Agenda
Should you have any questions, please contact Heidi Nava via email at heidi @ wfsolutions.org or call (956) 928-5000 for more information.
---
PUBLIC COMMENT
Individuals seeking to make public comment at committee and/or board meeting are required to sign up prior to commencement of the meeting. Speakers are limited to three (3) minutes.Should you have any questions, please contact Heidi Nava via email at heidi @ wfsolutions.org or call (956) 928-5000 for more information.
---
Workforce Development Board Modification Plan
The Workforce Development Board Modification Plan (PY 2017-2020) for Workforce Solutions of Hidalgo, Starr and Willacy Counties is now available by accessing links below:
---
---
Workforce Development Board Plan 2017-2020
The Workforce Development Board Plan (PY 2017-2020) for Workforce Solutions of Hidalgo, Starr and Willacy Counties is now available by accessing links below:
Workforce Solutions Website Terms and Conditions

Agreement Between User and Workforce Solutions (WFS) Website
Welcome to the WFS website (Site). The Site is comprised of various web pages operated by WFS and is offered to you conditioned on your acceptance without modification of the terms, conditions, and notices contained herein (the "Terms"). Your use of the Site constitutes your agreement to all such Terms. Please read these terms carefully and keep a copy of them for your reference.

The WFS Site is a Non-Profit, Information and Workforce Service Provider.
Privacy
Your use of the Site is subject to the Workforce Solutions Privacy Policy located at http://www.wfsolutions.org/privacy-policy. Please review our Privacy Policy, which also governs the Site and informs users of our data collection practices.
Electronic Communications
Visiting our Site or sending to and receiving from our Site E-mails constitutes electronic communications. You consent to receive electronic communications and you agree that all agreements, notices, disclosures and other communications that we provide to you electronically, via email and on our Site, satisfy any legal requirement that such communications be in writing.
Your Account
If you use our Site, you are responsible for maintaining the confidentiality of your account and password and for restricting access to your computer, and you agree to accept responsibility for all activities that occur under your account or password. You may not assign or otherwise transfer your account to any other person or entity. You acknowledge that our Site is not responsible for third party access to your account that results from theft or misappropriation of your account. The Site and its associates reserve the right to refuse or cancel service, terminate account(s), or remove or edit content in our sole discretion.
Our Site may collect personally identifiable information from children under the age of thirteen. The Site may collect this information when a user of the Site submits a child care electronic form. We provide information about our personal data practices for children on our home page and wherever we knowingly collect personal data from children on our Web site.
If you are under the age of thirteen, you must ask your parent or guardian for permission to use this website. If you are a parent and you have questions regarding our data collection practices, please contact us using the information provided at the end of this Agreement. If you are under 18, you may use the Site only with permission of a parent or guardian.
Links to Third Party Sites/Third Party Services
The Site may contain links to other websites ("Linked Sites"). The Linked Sites are not under the control of WFS and our Site is not responsible for the content of any Linked Site, including without limitation any link contained in a Linked Site, or any changes or updates to a Linked Site. WFS is providing these links to you only as a convenience, and the inclusion of any link does not imply endorsement by WFS of the site or any association with its operators.
Certain services made available via the Site are delivered by third party sites and organizations. By using any product, service or functionality originating from our Site domain: https://www.wfsolutions.org/, you hereby acknowledge and consent that our Site may share such information and data with any third party with whom our Site has a contractual relationship to provide the requested product service or functionality on behalf of the Site's users and customers.
No Unlawful or Prohibited Use/Intellectual Property
You are granted a non-exclusive, non-transferable, revocable license to access and use the Site strictly in accordance with these terms of use. As a condition of your use of the Site, you warrant or guarantee to WFS that you will not use the Site for any purpose that is unlawful or prohibited by these Terms. You may not use the Site in any manner which could damage, disable, overburden, or impair the Site or interfere with any other party's use and enjoyment of the Site. You may not obtain or attempt to obtain any materials or information through any means not intentionally made available or provided for through the site.
All content included as part of the Site's service, such as text, graphics, logos, images, as well as the compilation thereof, and any software used on the Site, is the property of WFS or its suppliers and protected by copyright and other laws that protect intellectual property and proprietary rights. You agree to observe and abide by all copyright and other proprietary notices, legends or other restrictions contained in any such content and will not make any changes thereto.
You will not modify, publish, transmit, reverse engineer (creating a similar site from the Site's original technological principles, structure, function, operation and content), participate in the transfer or sale, create derivative works, or in any way exploit any of the content, in whole or in part, found on the Site. WFS content is not for resale. Your use of the Site does not entitle you to make proprietary rights or attribution notices in any content. You will use protected content solely for your personal use, and will make no other use of the content without the expressed written permission of WFS and the copyright owner. You agree that you do not acquire any ownership rights in any protected content. We do not grant you any licenses, expressed or implied, to the intellectual property of WFS or our licensors except as expressly authorized by these Terms.
Use of Communication Services
The Site may contain bulletin board services, chat areas, news groups, forums, personal web pages, calendars, and/or other message or communication facilities designed to enable you to communicate with the public at large or with a group (collectively, "Communication Services"), you agree to use the Communication Services only to post, send and receive messages and material that are proper and related to the particular Communication Service.
By way of example, and not as a limitation, you agree that when using a Communication Service, you will not: defame, abuse, harass, stalk, threaten or otherwise violate the legal rights (such as rights of privacy and publicity) of others (i.e., publish, post, upload, distribute or disseminate any inappropriate, profane, defamatory, infringing, obscene, indecent or unlawful topic, name, material or information); upload files that contain software or other material protected by intellectual property laws(or by rights of privacy of publicity) unless you own or control the rights thereto or have received all necessary consents; upload files that contain viruses, corrupted files, or any other similar software or programs that may damage the operation of another's computer; advertise or offer to sell or buy any goods or services for any business purpose, unless such Communication Service that you know, or reasonably should know, cannot be legally distributed in such manner; falsify or delete any author attributions, legal or other proper notices or proprietary designation or labels of the origin or source of software or other material contained in a file that is uploaded, restrict or inhibit any other user from using and enjoying the Communication Service; harvest or otherwise collect information about others, including e-mail addresses, without their consent; violate any applicable laws or regulations.
WFS has no obligation to monitor the Communication Services. However, WFS reserves the right to review materials posted to a Communication Service and to remove any material in its sole discretion. WFS reserves the right to terminate your access to any or all of the Communication Services at any time without notice for any reason whatsoever.
WFS reserves the right at all times to disclose any information as necessary to satisfy any applicable law, regulation, legal process or governmental request, or to edit, refuse to post or to remove any information or material in whole or in part, at WFS's sole discretion.
Always use caution when giving out any personally identifiable information about yourself or your children in any Communication Service. WFS does not control or endorse the content, messages or information found in any Communication Service and, therefore, WFS specifically disclaims any liability with regard to the Communication Services and any actions resulting from your participation in any Communication Service. Managers and hosts are not authorized WFS spokespersons, and their views do not necessarily reflect those of WFS. Materials uploaded to a Communication Service may be subject to limitations on usage, reproduction and/or dissemination. You are responsible for adhering to such limitations if you upload the materials.
Materials Provided to WFS or Posted on Any WFS Web Page
WFS does not claim ownership of the materials you provide to WFS (including feedback and suggestions) or post, upload, input or submit to any WFS Site or our associated services (collectively "Submissions"). However, by posting, uploading, inputting, providing or submitting your Submission you are granting WFS, our affiliated companies and necessary sublicensees, permission to use your Submission in connection with the operation of their Internet businesses including, without limitation, the rights to: copy, distribute, transmit, publicly display, publicly perform, reproduce, edit, translate and reformat your Submission and to publish your name in connection with your Submission.
No compensation will be paid with respect to the use of your Submission, as provided herein. WFS is under no obligation to post or use any Submission you may provide and may remove any Submission at any time in WFS's sole discretion.
By posting, uploading, inputting, providing or submitting your Submission you warrant and represent that you own or otherwise control all of the rights to your Submission as described in this section including, without limitation, all the rights necessary for you to provide, post, upload, input or submit the Submissions.
International Users
The Communication Services is controlled, operated and administered by WFS from our offices within the USA. If you access the Communication Services from a location outside the USA, you are responsible for compliance with all local laws. You agree that you will not use the WFS content accessed through the WFS website in any country or in any manner prohibited by any applicable laws, restrictions or regulations.
Indemnification
You agree to indemnify, defend and hold harmless WFS, its officers, directors, employees, agents and third parties, for any losses, costs, liabilities and expenses (including reasonable attorneys' fees) relating to or arising out of your use of or inability to use the Site or services, any user postings, made by you, your violation of any terms of this Agreement or your violation of any rights of a third party, or your violation of any applicable laws, rules or regulations. WFS reserves the right, at its own cost, to assume the exclusive defense and control of any matter otherwise subject to indemnification by you, in which event you will fully cooperate with WFS in asserting any available defenses.
Liability Disclaimer
THE INFORMATION, SOFTWARE, PRODUCTS, AND SERVICES INCLUDED IN OR AVAILABLE THROUGH THE SITE MAY INCLUDE INACCURACIES OR TYPOGRAPHICAL ERRORS. CHANGES ARE PERIODICALLY ADDED TO THE INFORMATION HEREIN, WFS AND/OR ITS SUPPLIERS MAY MAKE IMPROVEMENTS AND/OR CHANGES IN THE SITE AT ANY TIME.
WFS AND/OR ITS SUPPLIERS MAKE NO REPRESENTATIONS ABOUT THE SUITABILITY, RELIABILITY, AVAILABILITY, TIMELINESS, AND ACCURACY OF THE INFORMATION, SOFTWARE, PRODUCTS, SERVICES AND RELATED GRAPHICS CONTAINED ON THE SITE FOR ANY PURPOSE TO THE MAXIMUM EXTENT PERMITTED BY APPLICABLE LAW, ALL SUCH INFORMATION, SOFTWARE, PRODUCTS, SERVICES AND RELATED GRAPHICS ARE PROVIDED "AS IS" WITHOUT WARRANTY OR CONDITION OF ANY KIND. WFS AND/OR ITS SUPPLIERS HEREBY DISCLAIM ALL WARRANTIES AND CONDITIONS WITH REGARD TO THIS INFORMATION, SOFTWARE, PRODUCTS, SERVICES AND RELATED GRAPHICS, INCLUDING ALL IMPLIED PARTICULAR PURPOSE, TITLE AND NON-INFRINGEMENT.
TO THE MAXIMUM EXTENT PERMITTED BY APPLICABLE LAW, IN NO EVENT SHALL WFS AND/OR ITS SUPPLIERS BE LIABLE FOR ANY DIRECT, INDIRECT, PUNITIVE, INCIDENTAL, SPECIAL, CONSEQUENTIAL DAMAGES OR DAMAGES WHATSOEVER INCLUDING WITHOUT LIMITATION, DAMAGES FOR LOSS OF USE, DATA OR PROFITS, ARISING OUT OF OR IN ANY WAY CONNECTED WITH THE USE OR PERFORMANCE OF THE SITE, WITH THE DELAY OR INABILITY TO USE THE SITE OR RELATED SERVICES, THE PROVISION OF OR FAILURE TO PROVIDE SERVICES AND RELATED GRAPICS OBTAINED THROUGH THE SITE, OR OTHERWISE ARISING OUT OF THE USE OF THE SITE, WHETHER BASED ON CONTRACT, TORT, NEGLIGENCE, STRICT LIABILITY OR OTHERWISE, EVEN IF WFS OR ANY OF ITS SUPPLIERS HAS BEEN ADVISED OF THE POSSIBILITY OF DAMAGES BECAUSE SOME STATES/JURISDICTIONS DO NOT ALLOW THE EXCLUSION OR LIMITATION OF LIABILITY FOR CONSEQUENTIAL OR INCIDENTAL DAMAGES, THE ABOVE LIMITATION MAY NOT APPLY TO YOU. IF YOU ARE DISSATISFIED WITH ANY PORTION OF THE SITE, OR WITH ANY OF THESE TERMS OF USE, YOUR SOLE AND EXCLUSIVE REMEDY IS TO DISCONTINUE USING THE SITE.
Termination/Access Restriction
WFS reserves the right, in its sole discretion, to terminate your access to the Site and the related services or any portion thereof at any time, without notice. To the maximum extent permitted by law, this agreement is governed by the laws of the State of Texas and you hereby consent to the exclusive jurisdiction and venue of courts in Hidalgo County Texas in all disputes arising out of or relating to the use of the Site. Use of the Site is unauthorized in any jurisdiction that does not give effect to all provisions of these Terms, including, without limitation, this section.
You agree that no joint venture, partnership, employment, or agency relationship exists between you and WFS as a result of this Agreement or use of the Site. WFS's performance of this Agreement is subject to existing laws and legal process, and nothing contained in this Agreement is in derogation of WFS's right to comply with governmental, court and law enforcement requests or requirements relating to your use of the Site or information provided to or gathered by WFS with respect to such use. If any part of this Agreement is determined to be invalid or unenforceable pursuant to applicable law including, but not limited to, the warranty disclaimers and liability limitations set forth above, then the invalid or unenforceable provision will be deemed superseded by a valid, enforceable provision that most closely matches the intent of the original provision and the remainder of the Agreement shall continue in effect.
Unless otherwise specified herein, this Agreement constitutes the entire agreement between the user and WFS with respect to the Site and it supersedes all prior or contemporaneous communications and proposals, whether electronic, oral or written between the user and WFS with respect to the Site. A printed version of this agreement and of any notice given in electronic form shall be admissible in judicial or administrative proceedings based upon or relating to this agreement to the same extent and subject to the same conditions as other business documents and records originally generated and maintained in printed form. It is the expressed wish to the parties that this agreement and all documents be written in English.
Changes to Terms
WFS reserve the right, in its sole discretion, to change these Terms and Conditions. The most current version of the Terms will supersede all previous versions. WFS encourages you to periodically review the Terms to stay informed of our updates.
Freedom of Information Act
The Freedom of Information Act (FOIA) provides that any person has a right, enforceable in court, to obtain access to federal agency records, except to the extent that such records (or portions of them) are protected from public disclosure by one of nine exemptions or by one of three special law enforcement record exclusions. A FOIA request can be made for any agency record following the applicable procedures. To access more information related to the FOIA go to http://www.foia.gov.
Contact Us
WFS welcomes your questions or comments regarding the Terms:
Workforce Solutions
ATTN: Business Intelligence Specialist
3101 West Business 83
McAllen, Texas 78501
Email Address: wfswebmaster@wfsolutions.org, comments@wfsolutions.org or info@wfsolutions.org
Telephone number:
(956) 928-5000
Subcategories
Labor Market Information Web Pages