2019 Q2 Newsletter
Quarterly Newsletter | April - June, 2019
---
Workforce Solutions Supports U.S. Census Bureau
Workforce representatives have been in collaboration with Hidalgo county and other partner organizations via sub-committee meetings held to promote awareness of census jobs and to encourage participation in the upcoming census.
Representatives from the U.S. Census Bureau were available at WFS offices to facilitate applications from job seekers from Monday, April 22, to Thursday, April 25, 2019.
To be eligible for a 2020 Census job, you must:
• Be at least 18 years old.
• Have a valid Social Security number.
• Be a U.S. citizen.
• Have a valid email address.
• Complete an application and answer assessment questions. (Some assessment questions are available in Spanish. However, an English proficiency test may also be required.)
• Be registered with the Selective Service System or have a qualifying exemption, if you are a male born after Dec. 31, 1959.
• Pass a Census-performed criminal background check and a review of criminal records, including fingerprinting.
• Commit to completing training.
• Be available to work flexible hours, which can include days, evenings, and/or weekends.

Most jobs require employees to:
• Have access to a vehicle and a valid driver's license, unless public transportation is readily available.
• Have access to a computer with internet and an email account (to complete training).
For more information regarding WFS hiring events and job fairs, please visit us online at wfsolutions.org/events.
2019 WFS Board of Directors' Development Training
The world is constantly changing and requires a workforce board that can move with it. The purpose of Board of Directors Development Trainings is to keep WFS sharp and prepared to handle the economic demands of the Rio Grande Valley. With an informed and engaged leadership, we can provide the services needed to see a positive impact within our community.
During 2018 Strategic Planning events, WFS collectively committed to creating opportunities to foster board engagement and development. Over the course of 2019, we listened to feedback and responses from a 2019 BOD Development Training Survey. The feedback helped us to a.) identify and prioritize training topics, b.) shape the agenda and c.) develop customized training.
The 2019 Board of Directors Development Training featured the Texas Workforce Commission (TWC), Chair Ruth Ruggero Hughs addressing WFS BOD members. Chair Hughs also serves as the TWC Commissioner representing employers. In addition, this year's agenda featured guest speaker, Dr. Steve Murdock, the Allyn R. and Glady's M. Cline Professor of Sociology at Rice University. Dr. Murdock discussed shifts in demographics and implications of those changes for education, labor force and economic development for our region, state and nation.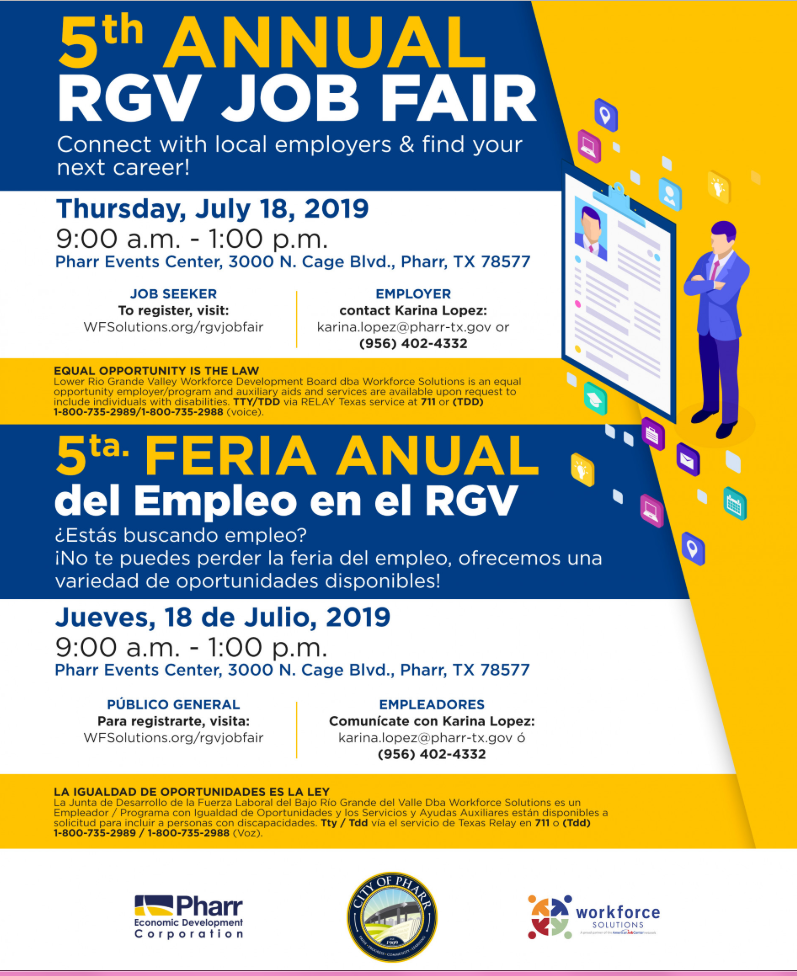 5th Annual RGV Job Fair Scheduled for July
Workforce Solutions is proud to partner with Pharr EDC to bring back one of summer's largest job fairs!
According to recent Labor Market Reports, unemployment numbers in the Rio Grande Valley are near historic lows, with Hidalgo County closing in on a 5 percent rate. Both Cameron and Starr counties notched their lowest unemployment rate since 1990 which is when the data started being archived.
Health care, construction and hospitality are the sectors in the Valley which have seen the most job gains. Many companies in those industries will be attending the job fair.
We currently have over 70 employers that have confirmed to be in attendance we've targeted an array of different opportunities of occupations and different industries.

Job seekers and employers interested in keeping up with WFS events can visit wfsolutions.org/events.
Transition Services Help Individuals with Disabilities Secure Employment
Workforce Solutions has programs that offer opportunities to people with different abilities through vocational rehabilitation services in which people are recruited and hired by offering the corresponding tools necessary for them to work. Through this program, Lizeth Cortez was hired by Kumori.
Unlike her classmates, Lizeth suffers from a hearing impairment, but this has not been an obstacle in her performance. "It was difficult to overcome that wall because written communication is sometimes not easy, grammar in English is not the same for us deaf people. It was hard to understand, but I tried to ask all the questions and get the resources so I could understand and I didn't give up," Cortez explained.
For his part, Fabián Martínez, a representative of the Workforce Solutions, said that "businesses usually find out that it isn't difficult to adapt to the needs of a person with a disability." Martínez added that businesses "are happy because they realize that there are people who, even if they have a disability, always have something to offer."
If you want to get information about the different programs for people with disabilities or have a business interested in hiring, you can call 956-275-7660 or you can visit wfsolutions.org/how-we-help/job-seekers/individuals- w-disabilities.html.
Townhall Meetings Facilitate Inclusivity
Workforce Solutions is honored to collaborate with UT Health Rio Grande Valley to encourage inclusivity in our community.
The objective of the REACH-RGV townhall meetings is to meet with community members and discuss existing/available resources and services. In addition, the events also aim to identify challenges/barriers that prevent community participation of persons with developmental disabilities and their family members in their respective communities.
The townhall meetings are scheduled to happen in Hidalgo, Starr, and Willacy county. Attendees will be able to discuss their opinions concerning the needs of people with developmental disabilities and their families; will talk about their experiences of receiving needed services or not finding needed services in their community. No identifying personal information will be collected from attendees.
Further questions about the project can be directed to the email: reach-RGV@utrgv.edu. Visit wfsolutions.org/events for townhall dates.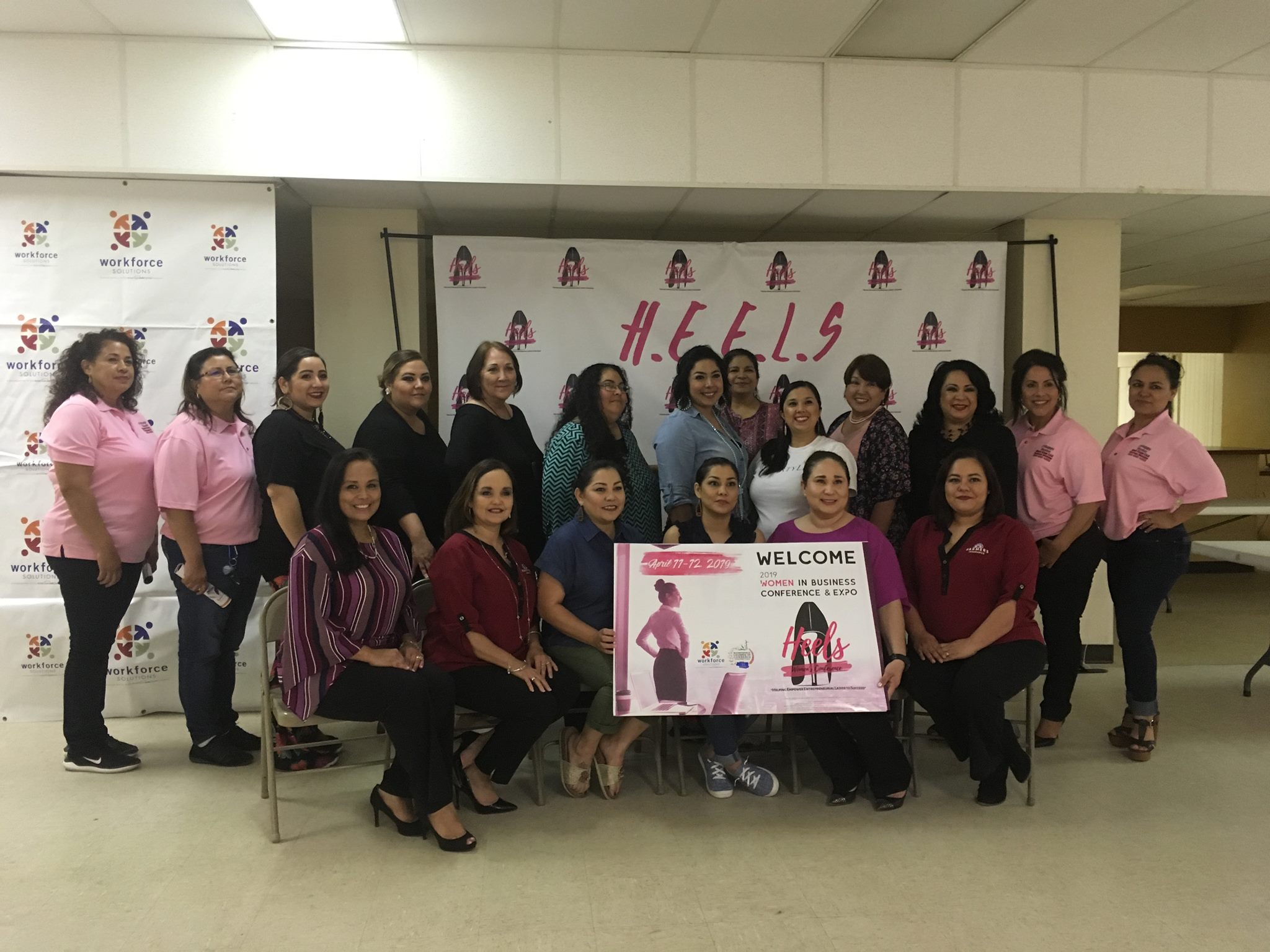 2019 Women in Business Conference & Expo: Helping Empower Entrepreneurial Ladies to Succeed (HEELS)
The 2019 Women in Business Conference & Expo hosted by Workforce Solutions in collaboration with the Raymondville Chamber of Commerce was held on April 11-12, 2019 in Raymondville, TX. A total of 55 entrepreneurs, presenters and exhibitors participated in the 2019 Women in Business Conference & Expo two-day event.
The event focused on providing women entrepreneurs with information and the resources necessary to help with becoming successful entrepreneurs. Day one (April 11, 2019) was the expo component where 10 local women entrepreneurs participated as exhibitors and displayed their products from 6:00 PM - 8:00 PM at the L. E. Franks Memorial Tourist Center, Raymondville, TX. The expo's intimate setting provided the opportunity to network, purchase merchandise, and get to know local business owners.
Day two (April 12, 2019) was led by a special welcome from Ms. Martha Rebeles, Workforce Solutions Vice Chair and business owner of Martha Rebeles Insurance Agency. Ms. Rebeles inspired the audience as she passionately shared her journey of working in the banking industry to becoming her own boss.
The conference consisted of four breakout sessions: Small Business Development Corporation Smart Start, Social Media Success, Art of the Start-up Online Business and Small Business Banking Services. The sessions provided an array of topics from turning a business idea into a plan of action to learning about social media strategies to help grow business. For more information on WFS services and events, visit us online at wfsolutions.org.
Upcoming Events
For the most accurate information, please visit our Calendar of Events!
RGV Job Fair - July 18, 2019
McAllen Public Library Job Fair - August 3, 2019
TWC Grant Presentation - August, 2019
Copyright © 2018 - 2019 Workforce Solutions - Lower Rio Grande Valley, All rights reserved. Workforce Solutions is one of 28 Texas Workforce Development Boards serving Hidalgo, Starr, and Willacy counties.
EQUAL OPPORTUNITY IS THE LAW
Lower Rio Grande Valley Workforce Development Board dba Workforce Solutions is an equal opportunity employer/program and auxiliary aids and services are available upon request to include individuals with disabilities. TTY/TDD via RELAY Texas service at 711 or (TDD) 1-800-735-2989/1-800-735-2988 (voice).
Our mailing address is:
3101 W. Business 83 :: McAllen, TX 78501