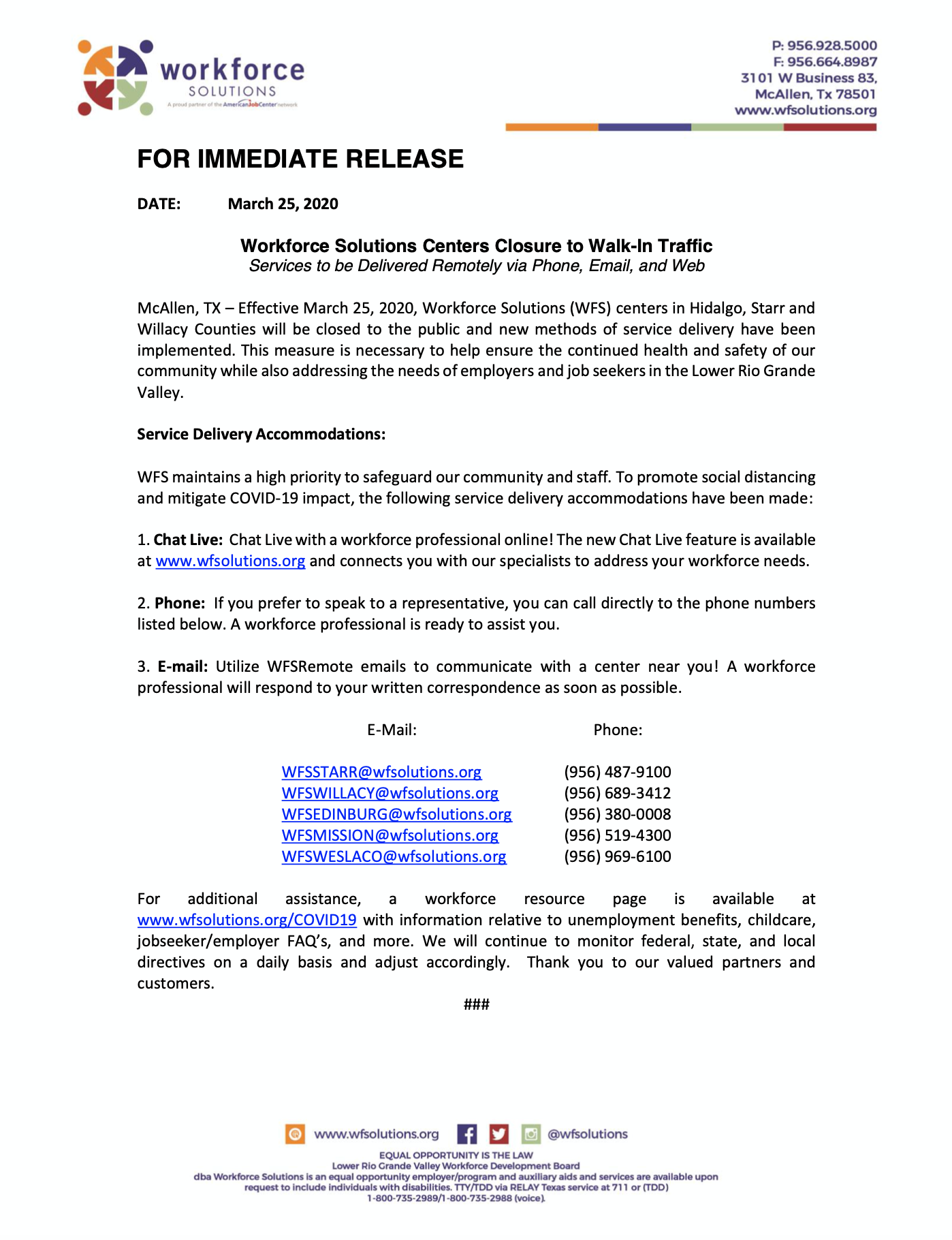 FOR IMMEDIATE RELEASE
DATE: March 25, 2020
Workforce Solutions Centers Closure to Walk-In Traffic
Services to be Delivered Remotely via Phone, Email, and Web
McAllen, TX – Effective March 25, 2020, Workforce Solutions (WFS) centers in Hidalgo, Starr and Willacy Counties will be closed to the public and new methods of service delivery have been implemented. This measure is necessary to help ensure the continued health and safety of our community while also addressing the needs of employers and job seekers in the Lower Rio Grande Valley.
Service Delivery Accommodations:
WFS maintains a high priority to safeguard our community and staff. To promote social distancing and mitigate COVID-19 impact, the following service delivery accommodations have been made:
1. Chat Live: Chat Live with a workforce professional online! The new Chat Live feature is available at www.wfsolutions.org and connects you with our specialists to address your workforce needs.
2. Phone: If you prefer to speak to a representative, you can call directly to the phone numbers listed below. A workforce professional is ready to assist you.
3. E-mail: Utilize WFSRemote emails to communicate with a center near you! A workforce professional will respond to your written correspondence as soon as possible.
E-Mail: Phone:
WFSSTARR@wfsolutions.org (956) 487-9100
WFSWILLACY@wfsolutions.org (956) 689-3412
WFSEDINBURG@wfsolutions.org (956) 380-0008
WFSMISSION@wfsolutions.org (956) 519-4300
WFSWESLACO@wfsolutions.org (956) 969-6100
For additional assistance, a workforce resource page is available at www.wfsolutions.org/COVID19 with information relative to unemployment benefits, childcare, jobseeker/employer FAQ's, and more. We will continue to monitor federal, state, and local directives on a daily basis and adjust accordingly. Thank you to our valued partners and customers.
###